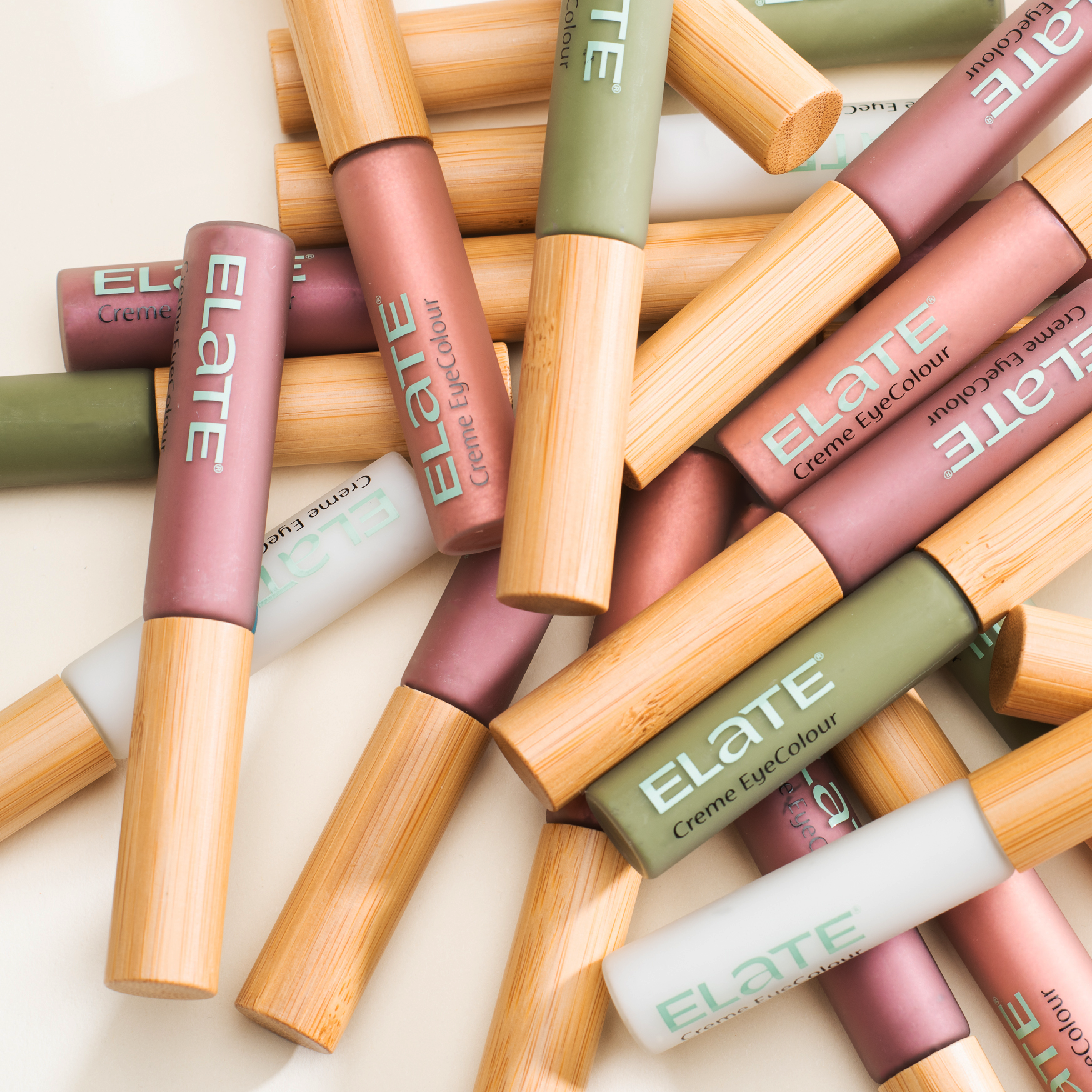 The Create Collection
Inspired By YOU
Creatives like you transcend societal standards and push the boundaries of so-called "norms". Whether it's through your makeup, your clothes, your art, or your words, you bring something new into the world just by being your truest self. At Elate, we believe that makeup is an ultimate tool of creativity and individuality, and that by simply expressing yourself, you define what beauty means- because you ARE beauty. 
This collection is inspired by you. You are
Curious
, you are
Confident
, and you are
Kind
. We hope these new colours empower you to break-free of the standard to create what is possible.
[{"id":42567174750360,"title":"Confident | Shimmery Rose Gold","option1":"Confident | Shimmery Rose Gold","option2":null,"option3":null,"sku":"E0307006","requires_shipping":true,"taxable":true,"featured_image":{"id":42648705630360,"product_id":7450432405656,"position":9,"created_at":"2023-03-27T14:14:23-07:00","updated_at":"2023-03-27T15:00:20-07:00","alt":"#shade_Confident_|_Shimmery_Rose_Gold","width":1612,"height":2240,"src":"\/\/elatebeauty.com\/cdn\/shop\/products\/Confident_CremeEyeColour.jpg?v=1679954420","variant_ids":[42567174750360]},"available":false,"name":"Creme EyeColour - Confident | Shimmery Rose Gold","public_title":"Confident | Shimmery Rose Gold","options":["Confident | Shimmery Rose Gold"],"price":2500,"weight":0,"compare_at_price":null,"inventory_management":"shopify","barcode":"782706815552","featured_media":{"alt":"#shade_Confident_|_Shimmery_Rose_Gold","id":35412415021208,"position":15,"preview_image":{"aspect_ratio":0.72,"height":2240,"width":1612,"src":"\/\/elatebeauty.com\/cdn\/shop\/products\/Confident_CremeEyeColour.jpg?v=1679954420"}},"requires_selling_plan":false,"selling_plan_allocations":[]},{"id":42567171866776,"title":"Kind | Shimmery Mauve","option1":"Kind | Shimmery Mauve","option2":null,"option3":null,"sku":"E0307005","requires_shipping":true,"taxable":true,"featured_image":{"id":42648693670040,"product_id":7450432405656,"position":10,"created_at":"2023-03-27T14:08:57-07:00","updated_at":"2023-03-27T15:00:20-07:00","alt":"#shade_Kind_|_Shimmery_Mauve","width":1612,"height":2240,"src":"\/\/elatebeauty.com\/cdn\/shop\/products\/Kind_CremeEyeColour.jpg?v=1679954420","variant_ids":[42567171866776]},"available":false,"name":"Creme EyeColour - Kind | Shimmery Mauve","public_title":"Kind | Shimmery Mauve","options":["Kind | Shimmery Mauve"],"price":2500,"weight":0,"compare_at_price":null,"inventory_management":"shopify","barcode":"782706815545","featured_media":{"alt":"#shade_Kind_|_Shimmery_Mauve","id":35412402798744,"position":16,"preview_image":{"aspect_ratio":0.72,"height":2240,"width":1612,"src":"\/\/elatebeauty.com\/cdn\/shop\/products\/Kind_CremeEyeColour.jpg?v=1679954420"}},"requires_selling_plan":false,"selling_plan_allocations":[]},{"id":42567172980888,"title":"Curious | Matte Moss Green","option1":"Curious | Matte Moss Green","option2":null,"option3":null,"sku":"E0307004","requires_shipping":true,"taxable":true,"featured_image":{"id":42648700813464,"product_id":7450432405656,"position":11,"created_at":"2023-03-27T14:12:41-07:00","updated_at":"2023-03-27T15:00:20-07:00","alt":"#shade_Curious_|_Matte_Moss_Green","width":1612,"height":2240,"src":"\/\/elatebeauty.com\/cdn\/shop\/products\/Curious_CremeEyeColour.jpg?v=1679954420","variant_ids":[42567172980888]},"available":false,"name":"Creme EyeColour - Curious | Matte Moss Green","public_title":"Curious | Matte Moss Green","options":["Curious | Matte Moss Green"],"price":2500,"weight":0,"compare_at_price":null,"inventory_management":"shopify","barcode":"782706815538","featured_media":{"alt":"#shade_Curious_|_Matte_Moss_Green","id":35412409974936,"position":17,"preview_image":{"aspect_ratio":0.72,"height":2240,"width":1612,"src":"\/\/elatebeauty.com\/cdn\/shop\/products\/Curious_CremeEyeColour.jpg?v=1679954420"}},"requires_selling_plan":false,"selling_plan_allocations":[]},{"id":42226319786136,"title":"Delight | Shimmery Copper","option1":"Delight | Shimmery Copper","option2":null,"option3":null,"sku":"E0307003","requires_shipping":true,"taxable":true,"featured_image":{"id":41972976550040,"product_id":7450432405656,"position":8,"created_at":"2022-10-28T12:00:18-07:00","updated_at":"2023-03-27T15:00:20-07:00","alt":"vegan and cruelty free cream eyeshadow, metallic #shade_Delight_|_Shimmery_Copper","width":1612,"height":2241,"src":"\/\/elatebeauty.com\/cdn\/shop\/products\/CremeEyeColour-Delight_2_1_1.jpg?v=1679954420","variant_ids":[42226319786136]},"available":false,"name":"Creme EyeColour - Delight | Shimmery Copper","public_title":"Delight | Shimmery Copper","options":["Delight | Shimmery Copper"],"price":2500,"weight":0,"compare_at_price":null,"inventory_management":"shopify","barcode":"","featured_media":{"alt":"vegan and cruelty free cream eyeshadow, metallic #shade_Delight_|_Shimmery_Copper","id":34699585388696,"position":14,"preview_image":{"aspect_ratio":0.719,"height":2241,"width":1612,"src":"\/\/elatebeauty.com\/cdn\/shop\/products\/CremeEyeColour-Delight_2_1_1.jpg?v=1679954420"}},"requires_selling_plan":false,"selling_plan_allocations":[]},{"id":42226319851672,"title":"Devote | Matte Neutral Brown","option1":"Devote | Matte Neutral Brown","option2":null,"option3":null,"sku":"E0307000","requires_shipping":true,"taxable":true,"featured_image":{"id":41909629681816,"product_id":7450432405656,"position":12,"created_at":"2022-10-17T13:46:56-07:00","updated_at":"2023-03-27T15:00:20-07:00","alt":"vegan and cruelty free cream eyeshadow, metallic #shade_Devote_|_Matte_Neutral_Brown","width":1612,"height":2241,"src":"\/\/elatebeauty.com\/cdn\/shop\/products\/cremeeyecolour-devote3.jpg?v=1679954420","variant_ids":[42226319851672]},"available":false,"name":"Creme EyeColour - Devote | Matte Neutral Brown","public_title":"Devote | Matte Neutral Brown","options":["Devote | Matte Neutral Brown"],"price":2500,"weight":0,"compare_at_price":null,"inventory_management":"shopify","barcode":"","featured_media":{"alt":"vegan and cruelty free cream eyeshadow, metallic #shade_Devote_|_Matte_Neutral_Brown","id":34635164385432,"position":18,"preview_image":{"aspect_ratio":0.719,"height":2241,"width":1612,"src":"\/\/elatebeauty.com\/cdn\/shop\/products\/cremeeyecolour-devote3.jpg?v=1679954420"}},"requires_selling_plan":false,"selling_plan_allocations":[]},{"id":42226319982744,"title":"Enchant | Shimmery Topaz Brown","option1":"Enchant | Shimmery Topaz Brown","option2":null,"option3":null,"sku":"E0307001","requires_shipping":true,"taxable":true,"featured_image":{"id":41909629943960,"product_id":7450432405656,"position":13,"created_at":"2022-10-17T13:47:03-07:00","updated_at":"2023-03-27T15:00:20-07:00","alt":"vegan and cruelty free cream eyeshadow, metallic #shade_Enchant_|_Shimmery_Topaz_Brown","width":1612,"height":2239,"src":"\/\/elatebeauty.com\/cdn\/shop\/products\/cremeeyecolour-enchant3.jpg?v=1679954420","variant_ids":[42226319982744]},"available":false,"name":"Creme EyeColour - Enchant | Shimmery Topaz Brown","public_title":"Enchant | Shimmery Topaz Brown","options":["Enchant | Shimmery Topaz Brown"],"price":2500,"weight":0,"compare_at_price":null,"inventory_management":"shopify","barcode":"","featured_media":{"alt":"vegan and cruelty free cream eyeshadow, metallic #shade_Enchant_|_Shimmery_Topaz_Brown","id":34635164647576,"position":19,"preview_image":{"aspect_ratio":0.72,"height":2239,"width":1612,"src":"\/\/elatebeauty.com\/cdn\/shop\/products\/cremeeyecolour-enchant3.jpg?v=1679954420"}},"requires_selling_plan":false,"selling_plan_allocations":[]}]
[{"id":42567022674072,"title":"Default Title","option1":"Default Title","option2":null,"option3":null,"sku":"E0307007","requires_shipping":true,"taxable":true,"featured_image":{"id":42648196219032,"product_id":7608039080088,"position":1,"created_at":"2023-03-27T10:46:11-07:00","updated_at":"2023-03-27T10:46:11-07:00","alt":null,"width":1612,"height":2240,"src":"\/\/elatebeauty.com\/cdn\/shop\/products\/cremeeyecolour_base.jpg?v=1679939171","variant_ids":[42567022674072]},"available":false,"name":"Base Eye Primer","public_title":null,"options":["Default Title"],"price":2500,"weight":0,"compare_at_price":null,"inventory_management":"shopify","barcode":"782706815347","featured_media":{"alt":null,"id":35411895845016,"position":1,"preview_image":{"aspect_ratio":0.72,"height":2240,"width":1612,"src":"\/\/elatebeauty.com\/cdn\/shop\/products\/cremeeyecolour_base.jpg?v=1679939171"}},"requires_selling_plan":false,"selling_plan_allocations":[]}]